Start Designing
We welcome the opportunity to create your custom cushions and coordinating custom pillows to revitalize your furniture. Our attention to detail shines in our custom cushions and custom pillows.
We offer superior materials, professional customer service, and excellent craftsmanship. Welcome to the number-one source for custom cushions.
This Way to Relaxation.
Create an outdoor experience with premium fabric that pairs perfectly with unwinding after a hard day's work.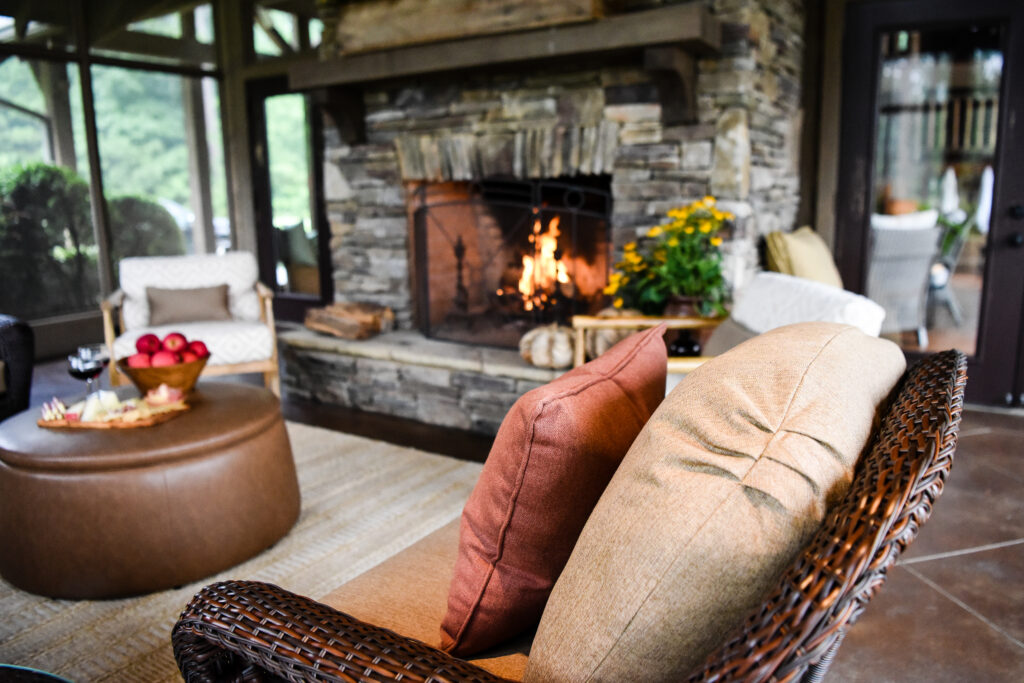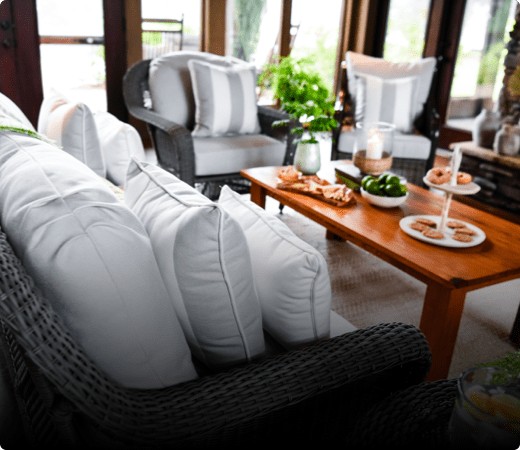 Cushion Designer
Grab the best seat in the house that's designed with comfort, style, and durability in mind. Distinguished craftsmanship paired with the best fabric on the market makes for a product that can withstand the test of time.
Design your own custom cushions and custom toss pillows with our one-of-a-kind online cushion designer. In just a few clicks, you can virtually create the cushions you've been dreaming of; we will do the rest.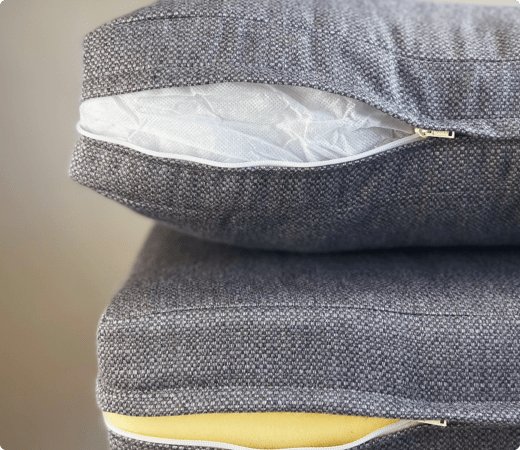 Fill Type
Our long-lasting foam-filled cushions provide support and comfort and are easy to clean. Ice cream, red wine, coffee, snow, rain, sun, and dirt are no match for our high-performance fill types.
The best part about our fill material? It's made in America, just like our handcrafted cushion covers and pillow covers. We are here to help you decide which fill type is right for you.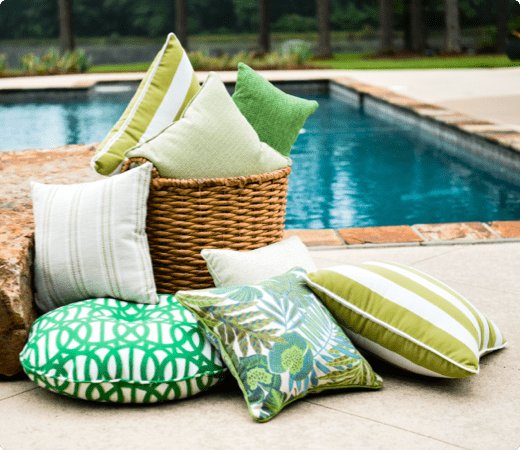 Toss Pillows
Toss pillows are the best way to quickly revitalize your living space without breaking the bank. Need a pop of color in your living room?
Want subtle colors to sit on your porch? Looking for some warm and inviting hues in your kitchen nook? We've got you covered. Virtually design your own custom toss pillows on our one-of-a-kind online cushion designer; we'll take it from there.
Custom Cushions: Unparalleled Comfort and Elegance
When you think of luxurious custom cushions, think CushionPros. A pioneer in custom cushion manufacturing, we've been in the textile industry since 1938.
Whether you're seeking bench cushions, window seat cushions, chair cushions, or any other, we're here to deliver exquisite style paired with lasting durability.
Why choose custom cushions from CushionPros.com?
Luxury Redefined: Cushion Pros redefines luxury with each custom cushion we craft. Hailing from the vibrant heart of Georgia, our expertise spans over three decades, echoing 83 years of unwavering commitment to excellence.
Tailor-Made for You: Be it a custom window back cushion, a plush loveseat cushion, a stylish chaise cushion, or even a sleek lumbar pillow, every product is intricately designed with your unique taste in mind.
American Craftsmanship: With each stitch and fill, we celebrate American craftsmanship. Our handcrafted cushion covers, pillow covers, and fill materials proudly carry the "Made in America" badge.
From Bench Cushions to Bolster pillows – The Choice is Yours
Unbeatable Fill Types
Experience our resilient foam-filled cushions, known for their superior support and easy cleaning. With resistance to a plethora of external elements, from snow to red wine, our fill materials stand the test of time.
Cushion Pros also offers cushions and pillows made in our poly fill material. This material is perfect for lumbar pillows, any size toss pillows, cushion backs, and so much more.
Revamp with Toss Pillows:
A minimal yet impactful way to refresh your spaces. Dive into a spectrum of colors and designs, and let our toss pillows breathe new life into your rooms.
Just like our cushions, we offer customizable options for toss pillows of all sizes. These pillows aren't just about looks- they're designed for comfort too. Whether you need extra support or just a soft, decorative touch, our pillows provide both comfort and aesthetic appeal.
The Ultimate Destination for Custom Cushions is Cushion Pros
Our custom outdoor cushions are not like any other cushions; they are high-end and comfortable, and they were made to be used indoors or out. We have everything you need, from custom outdoor cushion covers to protect and style your seating to custom patio furniture cushions that make lounging outside more enjoyable. Looking for a custom indoor bench cushion? We've got you covered.
Cushion Pros expertise includes the creation of custom indoor cushions suitable for any room. Whether you want a custom bench cushion for your hallway, custom bench seat cushions for your dining room, or custom couch cushions for your living room, our designs add a sophisticated touch.
Our custom window seat cushions and custom cushions for window seats are meticulously designed to offer both comfort and aesthetics to those looking to spruce up their windows. In fact, our custom window bench cushion is our most ordered item on our website.
CushionPros understands the importance of size. As a result, we offer custom-sized pillows in any dimension you require. If you are looking for some outdoor relaxation, our custom outdoor pillows are the ideal addition to your garden or patio.
When it comes to design, we all know that sometimes it is all about the cover. Our custom pillow covers and cushion cover options ensure that every piece matches your style and preferences. We curate every design with precision, whether it is a custom cushion cover for your lounge chair or custom bench cushions to fit your garden seating.
Our versatility extends to the creation of custom bench cushions for both indoor and outdoor use. There is no such thing as a too-big or too-small space. Our selection is unrivaled, with bench cushions custom designed for your interiors and custom-made patio cushions that bring life to your exteriors.
Enjoy the comfort of our custom outdoor bench cushions, which are designed to withstand the elements, or experience the joy of outdoor seat cushions that promise durability. Cushion Pros allows for complete customization.
Trust Cushion Pros to make the custom patio cushions for your deck or the outdoor chair cushions you want. Every cushion tells a story — your story.
We can help with everything related to custom cushions, including outdoor cushions, custom cushion covers, custom sofa cushions, custom toss pillows, custom bench cushions, custom outdoor chair cushions, and all other outdoor custom cushions.