It's no secret that a swing bed has the potential to be the most relaxing space in the house. A swing bed adds value, style, and an element of fun to your home. We would like to call ourselves the experts of swing beds when it comes to cushions. We have been crafting swing bed cushions for over 30 years. We've learned a thing or two about style and comfort along the way. If you've been contemplating installing this type of lounge spot in your home let us be the first to give you the inside scoop.
A swing bed provides more than just another space to 'hang out'. Adding a swing bed and cushion will make your home look inviting. Once installed we are positive it will become the focal point of conversation and relaxation. When constructing our bed cushions, durability and comfort are top of mind. We want you to enjoy the bed cushion for years to come. By pairing superior, stylish fabric with comfortable and sturdy fill materials, we know your new swing bed cushion will quickly become the topic of discussion with all your guests and visitors.
When moving through the steps of our cushion designer we recommend choosing foam fill material with batting or densified fill material with batting. These options will give you the most comfortable lounging experience. If you are looking for something firmer, we recommend choosing reticulated fill material. Keep in mind your porch/room set up. Is the space covered? Do you have a roof or structure covering your bed cushion? If not, the foam fill material will not be a good fill option as this material retains water and is recommended for indoor use. Not only does a swing bed add an abundance of curb appeal to your home, it will add function to your space as well. We take pride in the fact that we can customize your swing bed to your unique specifications.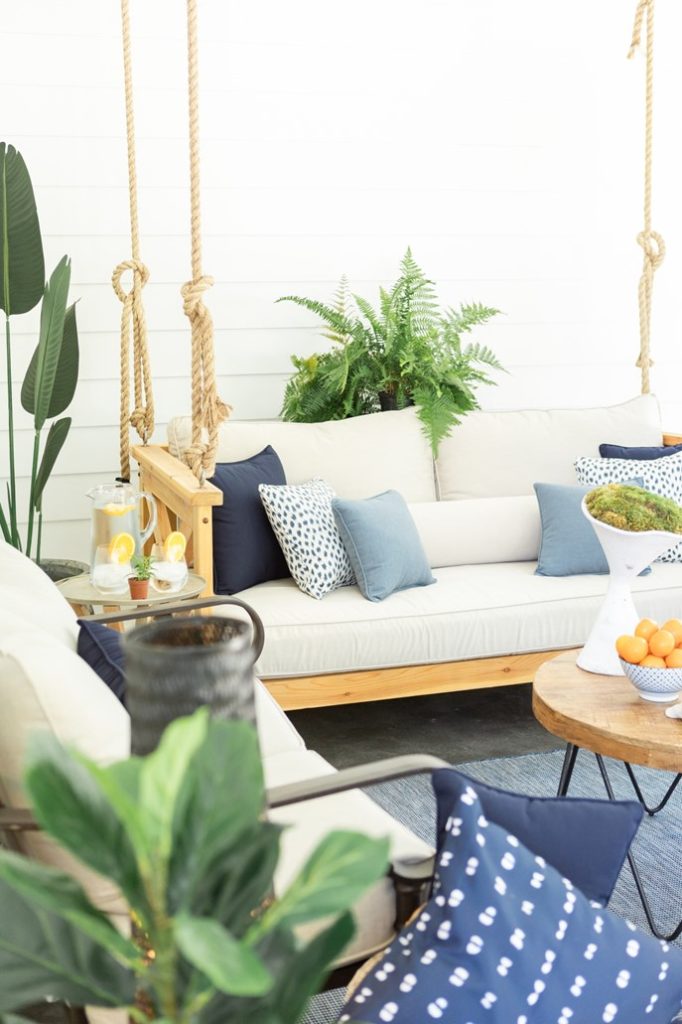 When styling your swing bed, we recommend adding a variety of custom-made toss pillows. When pairing toss pillows with a swing bed cushion we think it's best to add in a pop of color and texture, texture, texture! Adding texture is a quick and easy way to make sure attributes of the room stick out more than others. We are excited to offer more than 800 fabrics that you can pick to create your own toss pillow. Unsure of which fabric to pick? Start with our Swatch Packs! These packs have been carefully curated by our talented design team that contain our most loved fabrics by customers across the country. We deliver these swatch packs to your door in no time to help make the decision that much easier.
Did you know swing beds are not just for the porch? Children's rooms, guest houses, patios and even pool decks are just a few places we have seen a swing bed set up. There are no rules to say you must put a bed swing on a porch! We are confident when you choose to install a swing bed with cushions from Cushion Pros, you'll never look back!