Do you have a seat that is not a rectangle or square? Is it an odd shape? No problem! At Cushion Pros, our craftsmen can create anything you can imagine. In order to make your custom cushion we will need a template. A template is a pattern that is cut out from paper or cloth; we have found that brown wrapping paper works best.
Orders must be submitted prior to sending template(s). This ensures the template will be associated with the correct order. The following list must be included with each custom template.
-Mark your pattern with your name & order number
-Mark the location of the zipper and placement of the ties
-Write your fabric choice, boxed or corded, thickness, and quantity on each template.
-Write any special instructions
-The template must be cut our in its entirety
By giving us this information there should be no challenge in producing your custom cushion.
Please note, you will need to subtract the thickness of the bottom seat cushion from the back cushion. The back cushion sits on top of the seat cushion. If the bottom cushion is three inches thick, you will need to remove three inches from the back cushion template.
If you are making a custom cushion template from your existing cushion:
1. We recommend shipping your existing cushion cover to us. As we create your new custom cushion, the existing cover will be deconstructed and will not be returned to you.
2. To make a template, lay the paper on the floor and place your existing cushion on top of the paper.
3. Draw around the outside of the existing cushion.
4. Safely cut out the shape to create your custom pattern.
5. Please be sure to double check your design. Your custom cushion will be exactly the same shape and size as the pattern you create.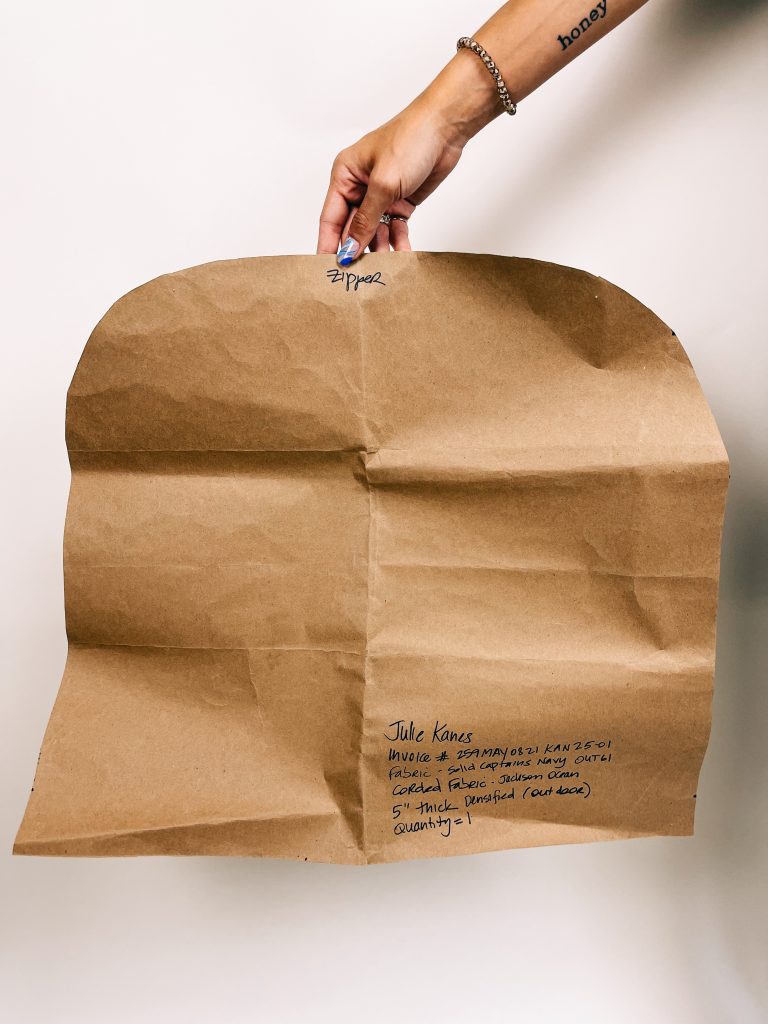 If you are making a custom cushion template without an existing cushion:
Place the paper over the furniture type and press it into place.
Press the paper into place creating a crease around all edges of the furniture type.
Cut along the creased edges to create your custom template.
Place the cut pattern back into the furniture type to ensure that it fits properly.
Mail your template to this address:
Cushion Pros
1120 Everee Inn Road
Griffin, GA 30224
Check out our video for additional help with creating a template: