When it comes to creating an inviting outdoor space, comfortable and stylish patio furniture is just the beginning. To truly transform your outdoor area into an oasis of relaxation and entertainment, you'll need to pay special attention to one often-overlooked element: outdoor cushions.
Outdoor cushions serve a dual purpose. They not only enhance the comfort of your patio furniture but also add a pop of color and style to your outdoor décor. However, choosing the right outdoor cushions requires more consideration than simply picking your favorite design. You must ensure they can withstand the rigors of Mother Nature while maintaining both comfort and aesthetics. Cushion Pros strives to maintain
In this guide, we'll provide valuable insights into selecting the best cushions for your patio furniture, allowing you to create an outdoor oasis that's both functional and beautiful.
MATERIAL MATTERS – When it comes to outdoor cushions, the choice of material is critical. Look for cushions made from weather-resistant materials such as Sunbrella Fabric. You can find this fabric on our Fabric Page located in the menu bar on the home screen. Sunbrella fabric is known for its durability and fade-resistance, this fabric is an excellent choice for outdoor cushions. It is easy to clean and can withstand rain and sun.
WATER RESISTANCE – Since outdoor cushions are exposed to the elements, water resistance is a must. Look for cushions with water resistant or waterproof liners to prevent moisture from seeping in. This feature not only extends the life of your cushions but also ensures your comfort after a sudden rain shower.
UV RESISTANCE – Prolonged exposure to sunlight can cause colors to fade and materials to weaken. Ensure your outdoor cushions have UV-resistant properties. This will help maintain their vibrant colors and structural integrity over time.
EASY MAINTENANCE – Nobody wants to spend hours cleaning outdoor cushions. Choose cushions with quick-drying materials that will allow you to utilize your outdoor space shortly after rain. At Cushion Pros, we recommend spot cleaning your fabric with a soapy sponge or hosing off the product with a garden hose and let air dry in the sun.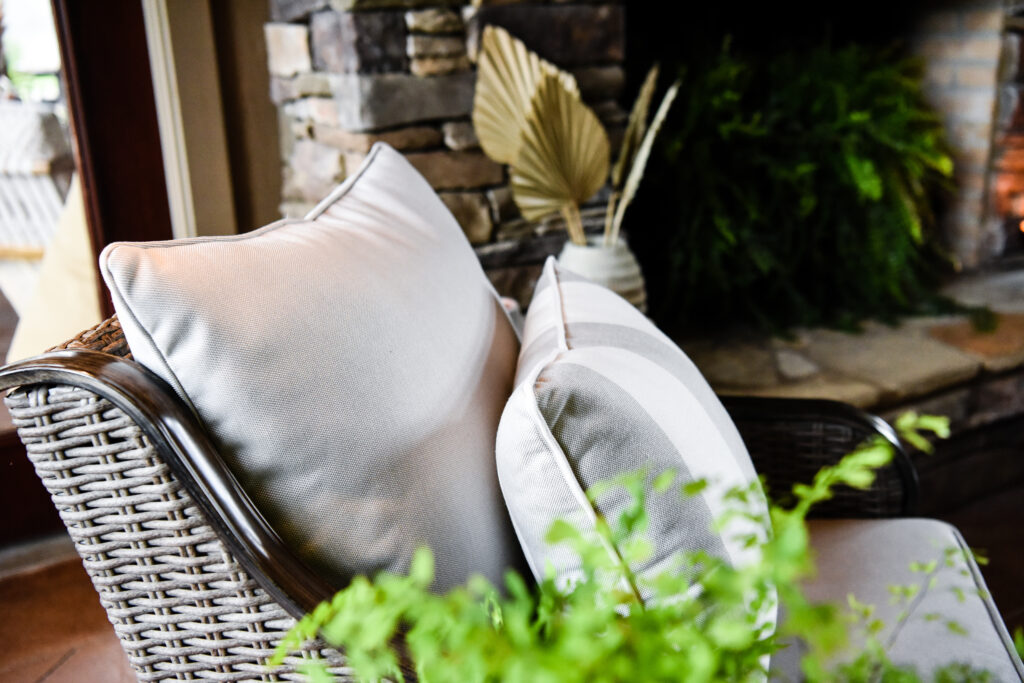 COMFORT AND SUPPORT – Comfort is paramount when selecting outdoor cushions. Consider the cushion's thickness, density, and support. Opt for cushions that strike a balance between softness and support to keep you and your guests comfortable during long outdoor gatherings.
STYLE AND COORDINATION – Outdoor cushions come in a variety of colors and patterns. When choosing to work with Cushions Pros, those options are limitless! Select designs that complement your outdoor décor and furniture. Coordinating colors and patterns can tie your outdoor space together, creating a cohesive look. Having trouble picking out just one fabric? Reach out to our Customer Support Team for fabric help Monday – Friday by phone or e-mail.
STORAGE SOLUTIONS – During the off-season, it's essential to store your outdoor cushions properly. Look for cushions that are easy to stack or have storage solutions available. Alternatively, invest in outdoor storage containers to protect your cushions from the elements.
In conclusion, when choosing outdoor cushions for your patio furniture, prioritize materials that can withstand various weather conditions, water resistance, UV resistance, easy maintenance, and of course, comfort. By considering these factors, you'll be well on your way to creating an outdoor oasis that's both inviting and enduring. With the right cushions from CushionPros.com, your patio will become the go-to spot for relaxation and entertainment, no matter the season.