Welcome to your Comprehensive Guide to Maintaining the Quality and Beauty of Your Custom Cushions!
How do you care and maintain a cushion?
What is the care and cleaning of cushions?
What is the best way to clean cushions?
How do you maintain patio cushions?
Answering and addressing all your questions on Care and maintenance of Cushions & Pillows. This guide is all you need to take care of your cushions the right way. When we talk to our clients, they are extremely happy choosing the custom cushion services offered by Cushions Pros. They invest in beautiful handmade cushions and pillows that match their personalities and aesthetics. Also, our products are a great investment in time, because they are made with amazing materials and craftsmanship and last a long time with the proper care.
Please review our Care & Cleaning guide for Custom Cushions
Cushion or Fabric Care & Maintenance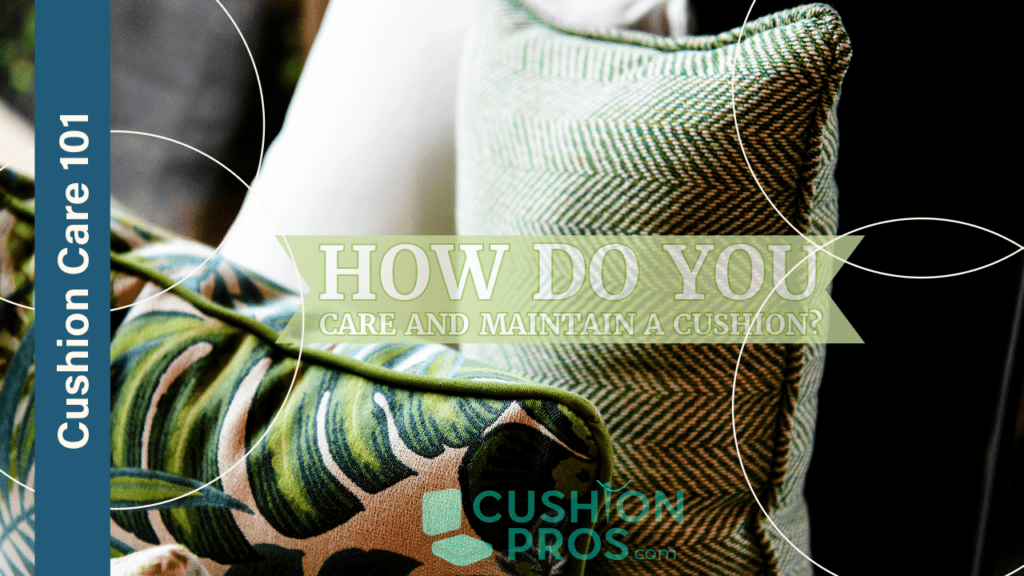 At Cushion Pros, we understand the value of maintaining the quality and longevity of your custom cushions. Our dedicated team of experts ensures that each cushion is crafted with the utmost care and attention to detail, using premium materials that guarantee durability and comfort. By following our comprehensive cushion care guide, you can extend the life of your cushions and preserve their exquisite appearance for years to come.
The key to maintaining your custom cushions lies in regular cleaning and proper storage.
Cushion Care 101: Maintaining the Quality and Beauty of Your Custom Cushions
We have seen a lot of questions online, such as:
What is the care and cleaning of cushions?
How do you clean cushion fillers?
How do you care for and maintain a cushion?
Well, these are great questions; and you should definitely know the answers before purchasing your custom pillows. Investing in custom cushions can enhance the aesthetic appeal and comfort of your living space. So, in order to ensure their longevity and preserve their pristine condition, it is essential to adopt proper care and maintenance practices. Whether you are looking to maintain outdoor garden cushions or indoor, custom-designed ones, following these guidelines will help you keep your cushions in top-notch condition for years to come.
General Cushion Care & Maintenance Tips
Keep Cushions Dry: Prevent moisture build-up by keeping your cushions dry, especially in humid or wet weather conditions. This will help in avoiding the growth of mold and mildew.
Vacuum Regularly: Regular vacuuming will prevent dust and debris from settling into the fabric. Use a brush attachment to gently remove any surface dirt and maintain the cleanliness of your cushions.
Avoid Prolonged Sun Exposure: Direct sunlight can cause fabric discoloration and reduce the lifespan of your cushions. Limit their exposure to sunlight by using protective covers or storing them in shaded areas when not in use.
Use Mild Cleansers: When cleaning your cushions, opt for mild soap or a gentle cleanser to avoid any damage to the fabric or colors. Before applying any cleaning solution, brush away loose dirt to prevent it from further embedding into the fabric.
Cleaning Cushion Fillers and Inserts
Submerge Cushion Inserts: If your cushion inserts require cleaning, gently knead them in water. Squeezing the insert in water can help dislodge dirt and debris, maintaining the freshness and cleanliness of the filler.
Washing Pillow Inserts: For machine-washable pillow inserts, use a front-loading washing machine with no agitator. Select a delicate cycle with warm water and use a mild detergent for optimum results.
How do I clean and maintain outdoor cushions and fabrics?
Interior Designers Secret Weapon
Ensure your cushions last longer with these simple care tips:
Brush or rinse off loose dirt and debris to prevent it from embedding in the fabric.
Periodically flip your cushions for even wear on both sides, if possible.
Store your pillows in an outdoor console table, heavy-duty plastic bag, or in a dry, covered area like a shed or garage when not in use.
Attend to spills immediately to prevent stains from setting.
Avoid cleaning POLYWOOD cushions in the washer or dryer.
Basic Cleaning Instructions:
Remove any loose dirt and debris.
Mix ¼ cup of mild soap with a gallon of lukewarm water in a bucket.
Apply the mixture to spills using a clean cloth.
Rinse thoroughly and allow your cushions to air dry on their sides.
By following these maintenance practices and cleaning guidelines, you can ensure the durability and longevity of your custom cushions, preserving their quality and beauty for an extended period. At Cushion Pros, we prioritize the long-lasting quality and performance of our custom cushions, enabling you to enjoy the comfort and elegance they bring to your living spaces for years to come.
Read our previous articles: